Trying out a new author is always a risk. That's why I offer the first book in my paranormal romance series for free. Try it out and see if you want to read more.
If you sign up to my Rin Grey Newsletter, you can also get a copy of the short story, Guarding Honour for free!
Waking the Dragon
A paranormal, dragon shifter romance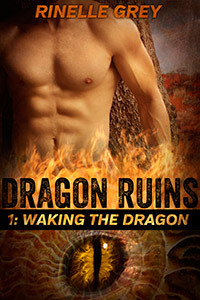 When his centuries long slumber ends abruptly, dragon prince, Taurian finds himself in a whole new world. Now, pursued by an ancient enemy, he finds his survival depends on the human woman whose presence woke him.
Karla is irresistibly drawn to the half-naked man she discovered in an ancient chamber. But when he starts claiming to be a dragon, she's sure he's crazy. The sensible thing to do would be to drop him off at the nearest police station.
But she soon finds out that dealing with dragons is never that simple.