Trying out a new author is always a risk. That's why I offer the first books in my sci-fi and paranormal romance series for free. Try them out, and see if you want to read more.
Waking the Dragon
A paranormal, dragon shifter romance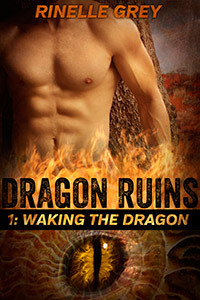 When his centuries long slumber ends abruptly, dragon prince, Taurian finds himself in a whole new world. Now, pursued by an ancient enemy, he finds his survival depends on the human woman whose presence woke him.
Karla is irresistibly drawn to the half-naked man she discovered in an ancient chamber. But when he starts claiming to be a dragon, she's sure he's crazy. The sensible thing to do would be to drop him off at the nearest police station.
But she soon finds out that dealing with dragons is never that simple.
What Readers are Saying
This is a fast paced quick read that just captivated me from the start. A different twist to the usual Dragon shifter finding a mate story. I found this approach of "waking" the dragon a refreshing change and I am looking forward to the rest of this series.
What Readers are Saying
The mysterious legendary dragons are brought to life in this series you will want to add to your collection. Great book with characters that you will love.
What Readers are Saying
I thoroughly enjoyed Waking the Dragon, a short story and the beginning of a series by Aussie author Rinelle Grey. Dragons set in outback Australia; an intriguing combination! I'm really looking forward to finding out what happens to Karla and Taurian in part 2, and have no hesitation in recommending all of author Rinelle Grey's work.
What Readers are Saying
A little romance, a little adventure, and dragons! Oh, my! What a great way to tell a story. It reminds me of the old serial movies or books being published bit by bit in magazines. Each book in the series deals with the primary event mentioned in the title. Characters are well thought out and the action is believable. I wonder if I can find a dragon to wake up?
What Readers are Saying
The story moves quickly, well written. As in any new story the characters are introduced and Ms Grey does a good job of developing each character into someone we want to get better acquainted with. The landscape of the outback and especially the Dragon Scales makes me feel that I'm standing there looking at a natural wonder of the world.
Reckless Rescue
A sci-fi romance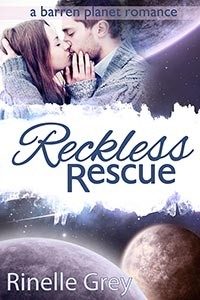 He crash landed on her planet. Can they survive the winter together without falling in love?
Stranded on the dying planet of Zerris, Marlee longs for the one thing she can't have…a family. Due to the noxious gas covering the planet, she can't conceive a child, and the Council, determined to repopulate the planet, have ended her third—and most precious—relationship. They insist she pick a new mate and try again, but she's sworn off love and the possibility of ever having a real family.
When a ship from the thriving planet of Urslat crashes on Zerris, Marlee rescues the ship's daring captain, Tyris. His ship is grounded, winter is setting in, and he won't survive without help. She offers him a deal…he can live with her if he pretends to be her mate so the Council will leave her alone.
Tyris agrees and a hungry desire sparks between them as they battle the harsh winter and primitive conditions. Their attraction grows, and soon, keeping their distance becomes impossible, even more challenging than the snow, the Council, and, for Marlee, the risks of a real relationship.
Will she risk her heart one last time for a chance at her dream? Or will Tyris be her undoing?
What Readers are Saying
Another writer with a fantastic view of humans as they populate the stars and the habitable planets that they contain.
What Readers are Saying
I am suffering from a "book hangover!" because of this book.  It was sooo good, that I am having difficulty starting another book, because I am still living in the world of Tyris and Marlee.
What Readers are Saying
From the beginning, author Rinelle Grey draws the reader in. You want Tyris to succeed. But you also want Marlee to succeed, and for a time their purposes might be counter to each other. Ms. Grey does an excellent work in rounding out her characters, not through description, but through dialogue and actions. She builds the drama as events progress, even conspire, in keeping Tyris trapped on this dying planet.
What Readers are Saying
Wow! What a well written story that brought a whole new world to life. Tyris and Marlee both had such different upbringings and environments but were able to connect so well. I loved that it wasn't a typical romance book. It was about internal and external(environment) struggles as well.
What Readers are Saying
The main theme of this book is a love story, but there are strong sub-themes related to personal rights, exploitation of resources, and the powers of governance. The inter-weaving of these sub-themes, and how they impact Marlee and Tyris, are central to the drama.