Rin Grey is the fantasy pen name for romance author Rinelle Grey. Her stories have the same overall feeling and eventual happily ever after, as well as a strong romantic theme, but don't necessarily meet all the typical romance conventions. Characters may betray other characters, cheat, or go through more than one partner over the course of the story. If these bother you, I'd recommend you click away now!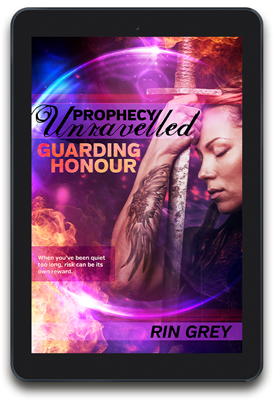 Guarding Honour – FREE for Subscribers!
Signup to my newsletter to receive a FREE copy of Guarding Honour, a short story in the Prophecy Unravelled series. You'll also receive a newsletter each time I release a new book, as well as access to exclusive extras such as deleted scenes and character bios.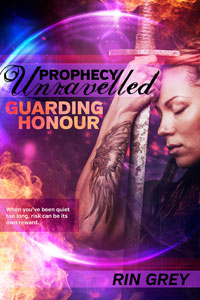 When you've been quiet too long, risk can be its own reward.
City Guard Digger hangs onto his honour fiercely, despite realising that laws he enforces are just a charade. Until his captain orders him to do the unthinkable: kill a man without trial.
His refusal could cost him everything, including his life. But honour wins. Pursued by his fellow guards, he has no chance of escape.
Until she arrives.
She saves his life.
Will he find the courage to change his life for the better?
The deepest wounds leave no scars.
Elizabeth spends her time using her magic to help others. But no amount of retrieving lost property or helping those who can't help themselves can make up for the mistakes she made in her past, or the hurt she caused when she ran away from her own family.
She can't face going back, and she doesn't want their forgiveness. How could she when she can't even forgive herself? But when she receives notice of a missing child in her own family, Elizabeth knows it's time to return home.
Turns out, the problem is even closer to home than she realised.
Rinelle Grey is a participant in the Amazon Services LLC Associates Program, an affiliate advertising program designed to provide a means for sites to earn advertising fees by advertising and linking to amazon.com.