Join Rinelle's Dragon Clan!
Be the first to hear all the latest news – new books, freebies, exclusive scenes, updates, and more.
Your privacy is important to us. We won't share you information with anyone, and you can unsubscribe at any time. Please check out our Privacy Policy for more details.
Yep, you heard me. The first book in my sci-fi romance series, Worlds Apart, is completely free! This is a full length book, with a HFN ending. (Though this couple's story does continue in the next book, Regulated Planet.)
If you haven't read this series yet, you can download Forbidden Planet below.
Forbidden Planet
Book 1 in the Worlds Apart series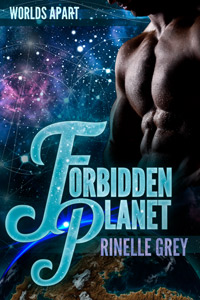 He needs a miracle. She needs a partner. To stay together, they need the one thing neither of them can have—a baby.
Captain Tyris Bekkert is prepared to risk everything in his search for redemption. And he's on the way to achieving it when he crash lands on a mysterious planet—one that has been deleted from the star charts. With a damaged spaceship, Tyris is sure he's doomed, until he discovers a village of people who shouldn't be there. But despite being stranded for nearly twenty years, the villagers are strangely reluctant to help him escape.
All except Marlee.
For Marlee, Tyris's damaged spaceship is a lifeline. It's an opportunity to put her past of broken relationships behind her and ensure a better future. She agrees to help Tyris repair his ship, but only if he pretends to be her partner to appease the council, who are pressuring her into another relationship.
As winter closes in, they're cut off from the ship. Tyris and Marlee's pretence is tested to their limits. For Marlee, the handsome space captain is everything she always wanted. The only problem is their time is limited.
They need a baby soon. If they fail, the council will rip them apart.
Forbidden Planet is a heartwarming sci-fi romance about survival, family, and falling in love against the odds. If you've always wondered what would happen if the captain stayed, you'll love Forbidden Planet.
One-click Forbidden Planet now, and travel across the galaxy with Tyris and Marlee as they search for love.
Well, with Calrian's story over, it's time for a new dragon prince to take the stage. For this serial, we'll be following Warrian, the second eldest of the Rian princes and princesses. And boy does he have some secrets! Find out what they are in the Dragon Forged Serial.
Part 1 – Distracting the Dragon is available to preorder now, and will be in Kindle Unlimited once it releases.
Distracting the Dragon
Part 1 in Dragon Forged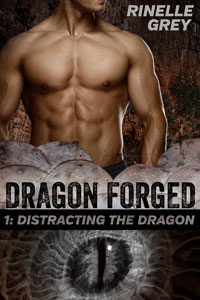 Small town newspaper reporter, Rita believes it's her job to tell the public the truth about the existence of dragons. When the leader of one of the clans offers her a deal she can't pass up—he'll give her the location of one of the sleeping dragon princes, if she keeps him away from his clan—she can't possibly say no. Especially not since she's secretly looking forward to having one of those hot, sexy, dragon shifters, all to herself. Pity he turns out to be cocky and arrogant, and not her type at all.
Warrian is suspicious of Rita right from the moment he sees her, and not just because she's a human rather than the dragon he expected. He knows she's hiding something, and no matter how attracted he is to her, he can't risk relying on someone he doesn't trust. Especially not when he has a secret he doesn't even dare share with his own clan. 
Rita is the perfect person to get to the bottom of Warrian's story. But when she finds out the truth, what is she going to do about it?
It's finally here, the last installment in Calrian and Rylee's story. When Calrian finds out that his clan is still alive, how is he going to divide his time between his role as prince, and his tropical island? Find out in this final part of Dragon Shores.
And since this completes the Dragon Shores serial, I've released the full volume, Trusting the Dragon Prince, at the same time. If you were waiting to read until the series was complete, wait no longer.
Both books are available now, to buy, or read in KU.
Keeping the Dragon
Part 5 in Calrian's Story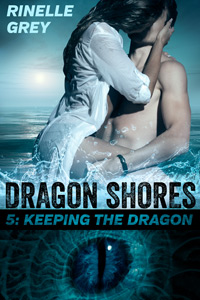 Calrian thought he'd never see his family again. He thought they were all dead. His greatest enemy had told him he'd killed them all.
He should have known better than to trust Ultrima.
When a photo of his brother, awake and well, appears in the news, Calrian knows he needs to find him. But that means putting his mate and children at risk. Especially with Ultrima on the prowl.
How can Calrian fulfil his responsibilities as a prince, and as a mate, when they're counter to each other?
Trusting the Dragon Prince
Dragon Shores Compilation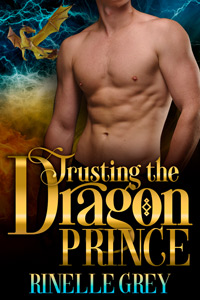 When a single mum and a dragon shifter prince bond accidentally, it could be deadly, for both of them.
When Prince Calrian wakes from a three hundred year sleep, he doesn't expect to be alone. He certainly doesn't expect to be woken by a human. In order to regain his energy and shift into his dragon form, he needs to bond with someone, but a human could never understand what he requires.
Single mother Rylee has enough on her plate. When her eleven-year-old son, Rowan brings home a strange man he found asleep in a canyon, she's determined to keep her distance. She's just escaped one controlling relationship, she certainly doesn't need another.
But the pull she feels for him is unmistakable, and it offers her a chance of the one thing she's never had – someone who cares for her. But Calrian isn't free to commit, he has a responsibility to find his family.
If you read a Rinelle Grey story, you can trust in a happy ending. Love will always triumph, even if it seems impossible… Rinelle Grey writes feel-good romance usually in science fiction or fantasy settings. Her heroines are independent and headstrong, and her stories are hard to put down. She grew up in a remote area of Australia, without power, hot water, or a phone, but now lives with all of those and her (happily ever after) husband, daughter, chooks, ducks and veggie garden.
Rinelle Grey is a participant in the Amazon Services LLC Associates Program, an affiliate advertising program designed to provide a means for sites to earn advertising fees by advertising and linking to amazon.com.