Sign up to receive to receive a chapter of Ostrian's story in your inbox every week!!
You'll also receive a notification every time I release a new book and gain access to exclusive novel extras and bonus scenes!
Or receive a link to the chapter in Facebook Messenger! Click the button below, then click 'get updates' or type "subscribe" to get started.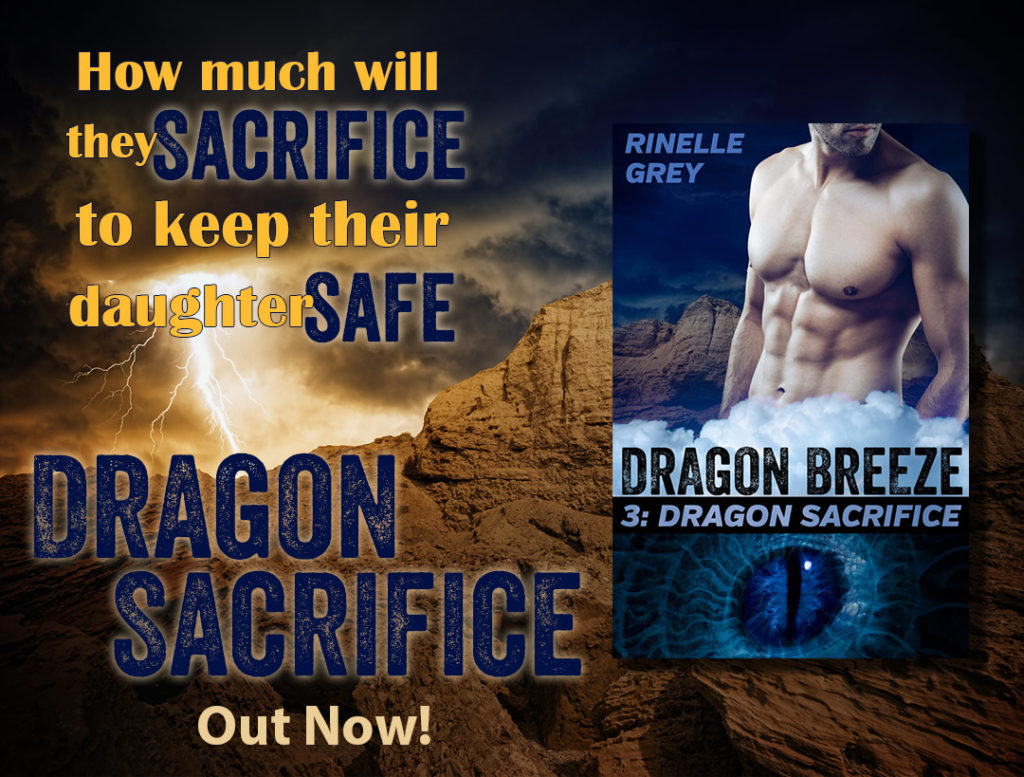 Yes, I know. It's actually been out for a week, and I'm only just updating this now. But I do have a good excuse! I'm already hard into writing the 4th Dragon Breeze story. I think this one will wrap up at 4 books, as I have all these other dragons clamouring for me to write their stories!
In the meantime, if you haven't already, go grab a copy of Dragon Sacrifice, Part 3 in the Dragon Breeze Serial!
Are you waiting for the next episode of Dragon Breeze? Lyrian and Brad's story continues in Dragon Sacrifice.
Brad should feel relieved that he's found Lyrian's dragon prince brothers, and returned her to her clan. She and their baby daughter will be safe now. But all he can think about is that it means their time together is over. He has no more excuse to stay.
Lyrian was sure she could have convinced Brad to stay, if it weren't for the fact that he found out she lied to him about their meeting. She knows he's hurt, but she still can't bear to see him go. So when his brother asks him to stay for his mating, she jumps at the chance to have him around longer, even if things between them are strained.
But when humans turn up outside the lair, searching for Brad and the dragons, everything is on the line, including their daughter's safety. How much are they prepared to sacrifice to keep her safe?
My Worlds Apart series has been exclusive to Amazon since the first book was published in 2013, with it's original cover. (Anyone remember that one?) But now it's time to try something new!
The Worlds Apart stories are slowly going wide on all retailers! Grab them now from your favourite retailer!
The first three books can also be bought together in the Worlds Apart Box Set.
If you read a Rinelle Grey story, you can trust in a happy ending. Love will always triumph, even if it seems impossible… Rinelle Grey writes feel-good romance usually in science fiction or fantasy settings. Her heroines are independent and headstrong, and her stories are hard to put down. She grew up in a remote area of Australia, without power, hot water, or a phone, but now lives with all of those and her (happily ever after) husband, daughter, chooks, ducks and veggie garden.
Rinelle Grey shared J.k. Harper's post.
Friday, March 16th, 2018 at 9:53am
J.k.
Psst, big bunch of free romances available! Check it out. Link in the comments.
Rinelle Grey is a participant in the Amazon Services LLC Associates Program, an affiliate advertising program designed to provide a means for sites to earn advertising fees by advertising and linking to amazon.com.