Join Rinelle's Dragon Clan!
Be the first to hear all the latest news – new books, freebies, exclusive scenes, updates, and more.
Or join with Facebook Messenger! Click the button below, then click 'get updates' or type "subscribe" to get started.
Your privacy is important to us. We won't share you information with anyone, and you can unsubscribe at any time. Please check out our Privacy Policy for more details.

As 2018 comes to a close, I'm starting to make plans for next year. I have so many books I want to write, it's hard to keep track if I don't write them down! I have the Return of the Dragons series to finish (I know all of you are dying to read Ultrima's story, and it is coming eventually, I promise!), I have the Dragon Island Hideaway series to finish (one more book!), and I have plans for some new series that I'm really excited about. 
I'm not sure if I can get them all written, but I'm going to try! I always work on the theory that if you shoot for the moon, even if you miss you land among the stars. So even if I don't write all the books I'm planning, it will be more than if I don't try!
If you want to check out my release plans, you can visit my upcoming releases page here. Is your favourite series on it?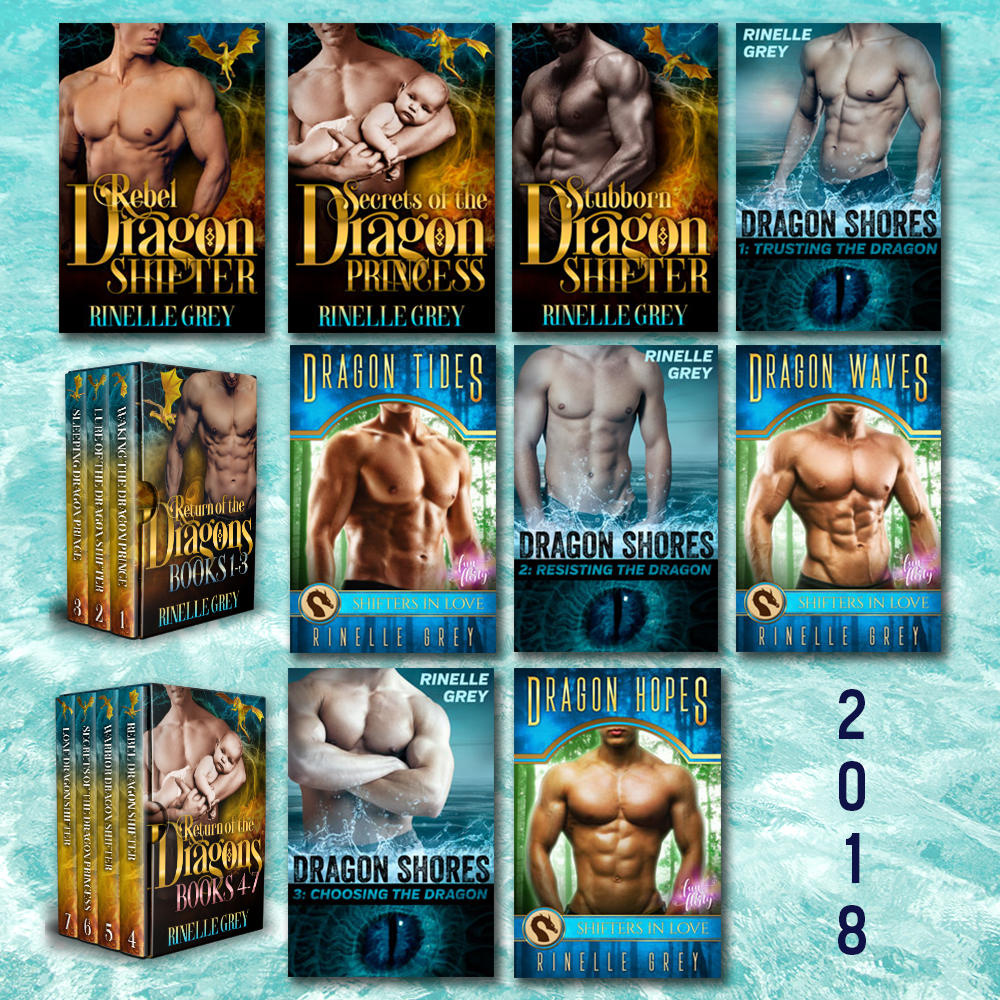 As I'm finishing up this year, and planning for the next, I like to take a look back at what I've published for the year. These weren't all new books (a few were box sets and compilations), but I still think it's a pretty good lineup for the year.
Interestingly it's the exact same number of books I published in 2017. Although the covers are a little more blue this year!
Which one was your favourite?
If you read a Rinelle Grey story, you can trust in a happy ending. Love will always triumph, even if it seems impossible… Rinelle Grey writes feel-good romance usually in science fiction or fantasy settings. Her heroines are independent and headstrong, and her stories are hard to put down. She grew up in a remote area of Australia, without power, hot water, or a phone, but now lives with all of those and her (happily ever after) husband, daughter, chooks, ducks and veggie garden.
Rinelle Grey is a participant in the Amazon Services LLC Associates Program, an affiliate advertising program designed to provide a means for sites to earn advertising fees by advertising and linking to amazon.com.