Trying out a new author is always a risk. That's why I offer the first book in one of my paranormal romance series for free. Try it out and see if you want to read more.
If you sign up to my Rin Grey Newsletter, you can also get a copy of the short story, Guarding Honour for free!
Sleeping Dragon
A paranormal, dragon shifter romance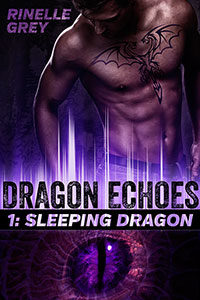 Sleeping Beauty never looked this hot!
It's finally Lisa's turn to wake her very own dragon prince with a kiss (and more). She's been waiting for her chance to sleep with one of the hot shifters since she first saw them. What she didn't need was the added pressure of a battle raging outside at the time.
Prince Verrian wakes to the shocking news that he's been asleep for three hundred years. In that time everything he's ever known has changed. Some of the changes, like the gorgeous human woman who woke him, are good. Others, not so much.
When they step outside his chamber, they find that friend and enemy alike have disappeared, leaving them alone in the middle of the Australian outback, with no vehicle and no phone reception.
And no idea who won the battle.
Sleeping Dragon is part 1 in the Dragon Echoes serial. It follows on from the Dragon Ruins serial.