Get your FREE copy of
Bringing Christmas to the Dragons!
You'll also receive a notification every time I release a new book and gain access to exclusive novel extras and bonus scenes!
Or receive your copy directly in Facebook Messenger! Click the button below, then click 'get updates' or type "subscribe" to get started.
Trying out a new author is always a risk. That's why I offer the first book in my Worlds Apart series for free. Try it out and see if you want to read more.
If you sign up to my Rin Grey Newsletter, you can also get a copy of the short story, Guarding Honour for free!
Forbidden Planet
A science fiction romance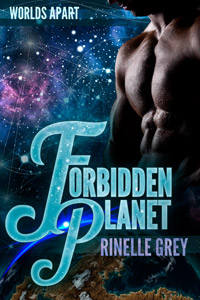 He needs a miracle.
When Captain Tyris Bekkert crash lands on a planet that's been deleted from the star charts, he's sure he's doomed. What he doesn't expect is to find a village. The residents seem strangely reluctant to help him escape. All except Marlee.

She needs a partner.
For Marlee, trapped on a dying planet, Tyris's spaceship is a lifeline–an opportunity to change her future. She agrees to help him repair the ship, if he'll pretend to be her partner to appease the village council, who are obsessed with securing the next generation.
As winter closes in and they're cut off from their only means of escape, their pretence is tested to the limits, likewise Marlee's own resolve. The handsome space captain is everything she's always wanted. 
But what's the point of letting yourself fall in love when you know it can't last?