Sign up to receive a chapter of Ostrian's story in your inbox ever week!
You'll also receive a notification every time I release a new book and gain access to exclusive novel extras and bonus scenes!
Or receive a link to the chapter in Facebook Messenger! Click the button below, then click 'get updates' or type "subscribe" to get started.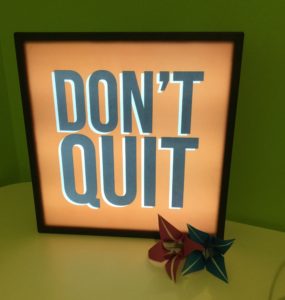 You may have noticed this picture on my little motivational lightbox when I posted my office pictures on Facebook the other day. (If you're not already following me on Facebook, why not!) Yes, there is a story.
Some of you may be aware that November is NaNoWriMo month, and I nearly always sign up. Sometimes I win, but more often lately, I don't. November isn't a good month for me. My daughter's homeschooling report is due in the first week, and this often means I am behind for that first week. Now being behind in the first week isn't so bad, because you have all month go catch up. A couple of days wordcounts divided by 3 weeks is still perfectly doable.
This year, in the second week, I got sick.
Quite often I can work through being sick, but this time, it really knocked me. My nose was burning and it made my eyes water, and concentrating on anything was hard. So I gave myself permission to take time off until I felt better.
By then, I was WAY behind. As in, need to write over 3,000 words a day to catch up behind. As in, give up on winning behind.
And yeah, I probably won't win now. 3,000 words in a day is quite doable, but every day? Not likely to happen. But that doesn't mean I'm going to give up.
I still have words to write, and I'm going to be writing them anyway. I'm going to set lots of small, manageable goals, and see what happens. Every hear the saying "If you shoot for the moon and miss, you'll land amongst the stars"? (Yeah, I know, not astronomically accurate, but we're talking about motivation here.
That's my aim.
How about you? Do you feel like giving up when you get behind, or does it just make you more determined to win?
If you read a Rinelle Grey story, you can trust in a happy ending. Love will always triumph, even if it seems impossible… Rinelle Grey writes feel-good romance usually in science fiction or fantasy settings. Her heroines are independent and headstrong, and her stories are hard to put down. She grew up in a remote area of Australia, without power, hot water, or a phone, but now lives with all of those and her (happily ever after) husband, daughter, chooks, ducks and veggie garden.
Rinelle Grey is a participant in the Amazon Services LLC Associates Program, an affiliate advertising program designed to provide a means for sites to earn advertising fees by advertising and linking to amazon.com.