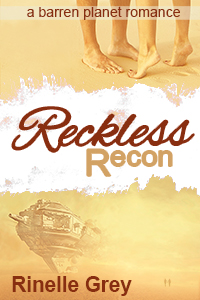 Following his brother half way across the galaxy seemed like a good idea at the time, but it hadn't hit him just how much he was giving up. Stir-crazy after three weeks in space, Kerit, professional surfer turned interstellar colonist, jumps at the chance to get off the ship and onto the new planet's surface—even if it is a little inhospitable.
He expects searing heat. He expects acid rain. He even expects the sunburn from hell. What he doesn't expect is to meet Folly—the most prickly, irritating, and fascinating girl he's ever known. And he needs her help if they want to make this planet their new home.
Determined to find her father's ship and prove he was a brilliant scientist, Folly has no interest in getting to know Kerit. The cute stranger is just a distraction. Unless of course he can help her in her search…
But something sinister lurks in the ruined city, and neither of them realise how much they are going to have to rely on each other if they want to make it out alive.
Reckless Recon is the third book in the Barren Planet Romance series.
Each book can be read alone, but is best enjoyed as part of the series.
The suggested reading order is:
Reckless Rescue
Reckless Rebellion
Reckless Recon