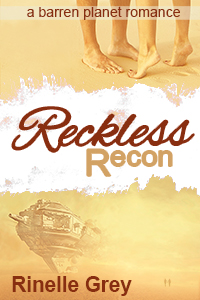 Well, progress on Reckless Recon has been going pretty well for the last couple of weeks. My frustration with realising I had to change a lot of chapters I'd written, combined with the release of Twin Curse, meant I didn't get much written for a while, but I'm back on the horse now, and hoping to have the rough draft finished by the end of the month.
I'm currently at 32,000 words, so through a fair chunk. I've really been enjoying the direction the story's taking (sometimes completely unexpectedly, as happens when you're a pantser), and looking forward to seeing how the ending comes together.
Today I thought I'd share my new beginning. Not strictly changed because of my extra research, but more just because I came up with a cool idea for a new beginning.
"Can't I just wear sunscreen?"

His mother scowled. "You're not taking this seriously, Kerit. Don't you realise that this planet still has virtually no ozone layer? The levels of UV are dangerously high. Any exposed skin will be burnt in less than five minutes. And if it rains…" She shuddered.

Kerit turned and looked in the mirror, grimacing. The baggy, slightly reflective jacket was comfortable enough, and wouldn't hinder his climbing ability. And thankfully his mother, head scientist in this project, had declared his jeans and climbing boots protection enough. The slightly tinted, full face plexiglas mask felt weird, but he could live with it.

The gloves though, just weren't going to cut it. He pulled them off.
You can read the first two books, Reckless Rescue and Reckless Rebellion, now, or if you're already up on the story, and waiting for Reckless Recon, you can sign up to my mailing list to be notified as soon as it's available.(No spam, I promise, only new release notifications.)