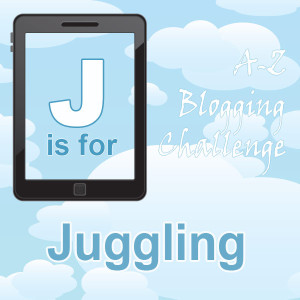 No, I'm not going to be talking about throwing balls up in the air. I'm talking about juggling the many roles and responsibilities we all have. I had planned, when I wrote my list for the A to Z challenge, to try to offer some advice, and some ways to deal with juggling both promoting your book and writing your next one. But at the moment, I don't feel like I have any advice to offer.
I was so excited, the first week of this challenge, to be achieving lots both with my blogging, and with editing Reckless Rebellion for the Camp NaNo challenge. The first month was great. But as is usually the way with these challenges, the second week is dragging, and the two weeks following that are neverending. I'm struggling with juggling both challenges, and I'm feeling like I've completely dropped the ball on parenting, cleaning, and of course, my day job!
Sometimes, juggling too many things leads to you dropping some. And I think, it's important to be selective about which ones you drop, so that it's not any of the important ones! I've always said on this blog, that my family comes first, and I need to keep remembering that. Not sure yet if I'm going to be dropping any of the challenges, or just scaling back a little, but I do think it's time to re-assess my priorities.
How do you cope with juggling too many things? Or are you better at only taking on things you can manage in the first place?
All this month I'm participating in the A-Z blogging challenge, writing a blog post for each letter of the alphabet, on every day of the month except Sundays. Check back regularly to see what else I have in store for you.