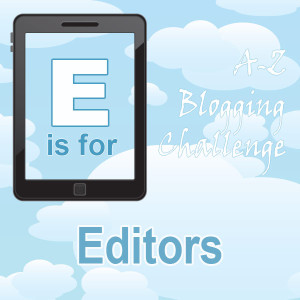 Hiring an editor is one of those hot topics in self-publishing. Something no one should do without. It has even been said recently, on one popular blog, that if you can't afford to hire an editor, then you shouldn't be self-publishing.
I agree that editors are important. I've worked with two in the process of getting Reckless Rescue ready for publication. First I hired a content editor, who read over the entire story, and suggested places where it didn't hang together, where the characters seemed out of character, or where the story moved too fast or slow. I loved working with her, and really feel that her advice helped me improve the overall feel of the story.
I also hired a line editor, who went over my grammar (not my strong suit!), sentence structure, and also pointed out some smaller plot holes/inconsistencies. She also did a final proofread for me.
Reckless Rescue would not be the book it is without the help of these two people. Editors are important, you won't get any arguement for me.
What I disagree with is the idea that it has to cost you thousands of dollars. Yes, if you do a search for editors, and check their prices, most companies and well known individuals will charge in the region of a thousand dollars to edit the average length manuscript. But there are other options.
Look around. Seach some of the popular self-publishing forums, many of them have a post, or even a whole section, devoted to people who are offering editing services cheaply. I found my content editor when she advertised a good deal on twitter, it cost me only $80. I found a whole list of editors on, I think, the kindle forums.
If all else fails, there are a few webpages where people offer freelance services, such as Elance or Freelancer. You offer your job, your price range, and wait to see who offers.
When you're looking through these resources, it's important not to judge them purely based on price. Check out what sort of books they do, and download a couple, even if it's just the samples. If you find that the books are full of mistakes, then that's a good sign to stay away! If you've checked them out, and all looks good, the next step is to ask if they do a sample edit. Most editors should do this for free. Sometimes the first chapter, sometimes only the first thousand words, but it's worth the effort to send a sample so you can get a feel for how they will work with your story. They should also, at this time, give you a quote for the entire manuscript.
So there you have it. Editing is important, but it doesn't need to cost you an arm and a leg.
Do you have any experience with editors? Any suggestions on other places to look for a good, affordable editor?
All this month I'm participating in the A-Z blogging challenge, writing a blog post for each letter of the alphabet, on every day of the month except Sundays. Check back regularly to see what else I have in store for you.