I have fallen a little behind in updates to this page! So today I get to tell you about TWO new releases! – Distracting the Dragon, Part 1 in Warrian's story, and the Escape to Dragon Island Box Set!
Distracting the Dragon
Part 1 in Dragon Forged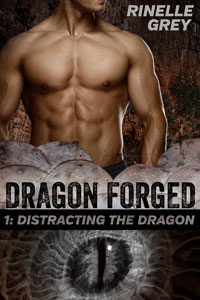 Small town newspaper reporter, Rita believes it's her job to tell the public the truth about the existence of dragons. When the leader of one of the clans offers her a deal she can't pass up—he'll give her the location of one of the sleeping dragon princes, if she keeps him away from his clan—she can't possibly say no. Especially not since she's secretly looking forward to having one of those hot, sexy, dragon shifters, all to herself. Pity he turns out to be cocky and arrogant, and not her type at all.
Warrian is suspicious of Rita right from the moment he sees her, and not just because she's a human rather than the dragon he expected. He knows she's hiding something, and no matter how attracted he is to her, he can't risk relying on someone he doesn't trust. Especially not when he has a secret he doesn't even dare share with his own clan. 
Rita is the perfect person to get to the bottom of Warrian's story. But when she finds out the truth, what is she going to do about it?
Escape to Dragon Island
The Complete Series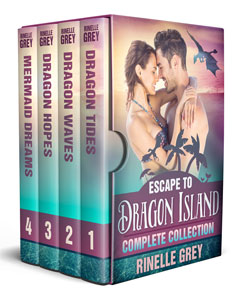 Escape to Dragon Island to enjoy some sun, sand, and dragon shifter romance (and maybe a mermaid or two).
When an idyllic tropical island resort is left in the charge of three dragon shifters and their human half-brother, things are about to heat up.
This complete set features four happily ever afters and all the sexy shifter shenanigans you could ever hope to find. Included are:
Dragon Tides: She thought she knew everything about her best friend. She was wrong. Can Damrian and Zara overcome all that stands between them to take their second chance at love? Or is the cost of trust simply more than they're willing to pay?
Dragon Waves: The last thing Audrey wants is another man in her life. Her cheating ex-fiancé made sure of that. So why can't she seem to stay away from the hot dragon shifter who manages her vacation resort?
Dragon Hopes: Mora is the most powerful dragon shifter in her family. Too bad her overprotective older brothers didn't get the memo. And as if having them breathing down her neck wasn't stifling enough, now she's being investigated by a sexy undercover police officer with an inconvenient dragon phobia. What's a girl have to do to get her happily ever after?
Mermaid Dreams: A human looking for love, a beached mermaid princess, and an all-consuming romance neither ever expected to find. What could possibly go wrong?
"Lovely characters with a heartwarming and heart felt story. So much meaning from this could and should translate over into our reality. Kindness and love, respect and responsibility! Totally recommend!" –Amazon reviewer
99c for a Limited Time Only!