The next part in my dragon shifter serial is out now.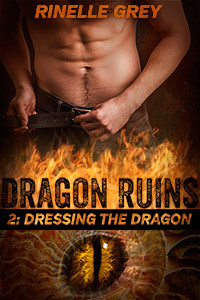 Karla's completely out of her depth, and has no idea how to handle Taurian. Getting clothes to cover his half-naked body is supposed to make her more comfortable—but how comfortable can you really be with an attractive dragon shifter? Especially when you're both being pursued through the city by his ancient, and deadly, rival.
Taurian could handle his enemy easily—if only his healing sleep hadn't left him weak and dependent on the human woman. To regain his strength quickly he needs to mate with her, but she resists him at every turn. Convincing her to heal him with her body is vital… and irresistible.
Keeping their hands to themselves is a challenge equal to the ancient one they face, especially since it could solve everything.
Or complicate everything in ways neither could have predicted.
It's available on Amazon for 99c, or free in Kindle Unlimited! Grab your copy now.