It's been a crazy few months, but I'm pleased to announce that Troll Curse is out! You can grab your copy at Amazon now.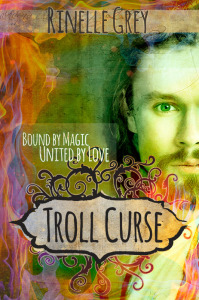 Bound by Magic, United by Love.
Jasyn is at the bottom of the food chain in the troll camp. As a mage, he lacks the brute strength that he could use to demand respect. He certainly will never catch the eye of a warrior woman like Kriss. But when he finds a book in a human village detailing unknown facts about the curse of the trolls, he knows he has to act before the trolls fight themselves into extinction.
Ever since she was a little girl being bullied around by her brothers, Kriss has been determined never to be weak. She'd never look twice at a troll like Jasyn. Strength and being able to beat anyone is her goal, and she won't let anything distract her from it. Until Jasyn stands up to their leader and insists there is another way. A more peaceful way.
The two of them form an alliance, bound in a marriage of convenience, focused on finding a way to end the fighting. An alliance that tests them in more ways than one. But can a people who have been ruled by strength and war ever find a peaceful solution to their problems? And can Kriss and Jasyn find time to look for their own happiness?