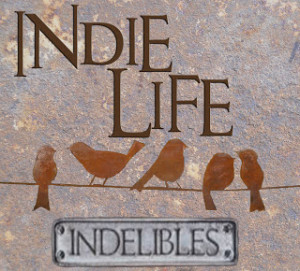 Today I'm participating in Indie Life, a feature run by Indelibles. Basically, everyone posts about something related to indie publishing, and visits everyone else. To see who else is involved, check out the linky list.
It feels like I haven't written in ages. And it's mostly true. Though I have re-written bits and pieces, for the most part, I've spent the last six or so months editing my barren planet romance series.
The editing process, both what I've done myself, and what I've worked through with editors, has taught me a lot about writing and what goes into making a good story. I've read a lot of writing books, and learnt more.
So this month, with Reckless Rebellion off to the editor, I figured I'd give Camp NaNoWriMo a go, and work on a fantasy romance story that's been sitting half finished on my hard drive. I kind of thought that all this learning I'd done would lead to writing a better story right from the start. You know, instead of coming back and having to change all that telling into showing, I could just do it right the first time.
I tried, really, I did. But it just didn't work. I spent so much time worrying about what word I was using, that the story just wasn't moving. So instead, I'm back to just writing it down however it comes to me. I can change words in editing. The story is the important part, and getting it down in a way I'm happy with is making me feel far better than having the perfect phrasing does.
And it's working. I've nearly hit my initial goal of 20,000 words (I'm at 17,000 at the moment), and feeling so motivated I upped my goal to 30k. Hopefully I'll make it. Of course, getting up early, and banning myself from Facebook until after I've made my goal are probably helping too.
Do you do any of the NaNo events? Do they work for you, or not? Do you find you can write a good draft first go, or do you let it all pour out, and fix it later?