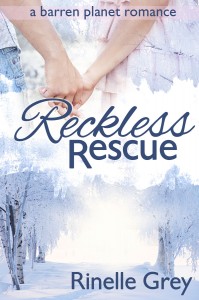 Here it is! The cover of my first novel, Reckless Rescue, due for release in November.
Designing a book cover was a new experience for me, made much easier (and a lot more fun) by the help of my talented sister who chose the fonts and designed the layout.  I just sat next to her and made (probably annoying) suggestions!
The old adage 'Don't judge a book by its cover' is good advice, but unfortunately not something most people heed. The reality is that without a catchy, professional cover, your novel probably isn't going to be noticed amongst all the other novels out there. Most people will skip over a cover that looks like amateurish, assuming that the book inside will be of lesser quality as well.
I wanted my cover to be truly representative of the story inside. I debated trying to include more science fiction elements in the design, but unfortunately, a photo of a futuristic spaceship was a bit hard to come by! Instead, I settled on a cover that fits with the romance genre, which is where I expect my book to be most appreciated. The winter scene reflects the fact that most of the novel takes place during a very harsh winter and the young couple holding hands signifies that exciting time of a new relationship.
Check out my books page for a detailed synopsis, and the cover of the sequel, Reckless Rebellion, as well.