Welcome to Rinelle's Dragon Clan
Your first email, with a free book, is on it's way. If the email doesn't arrive in a couple of minutes, please check your spam folder or promotions tab.
Loyal Dragon Shifter, the free book you'll receive once your signup is complete is a stand alone novella, with it's own happily ever after! But be warned, it could lead you to wanting to know more about the rest of the dragons! But good news – I'm running a special offer at the moment. For a limited time, you can buy the first and second Return of the Dragons box sets at a generous discount.
Both are also available to read for free in Kindle Unlimited.
Are you Ready to Wake a Dragon Prince?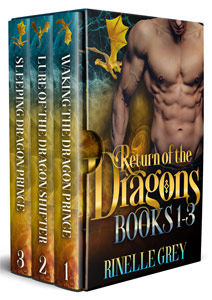 Discover love, adventure, and hot dragon shifters in the Australian outback. This three book bundle of paranormal, dragon shifter romances features dragon princes who've been asleep for three hundred years, forbidden love, and fated mates.
Contains the following stories:
Waking the Dragon Prince
Waking a sleeping dragon prince with a kiss seemed like something out of a fairy tale. Only this dragon shifter needs far more than just a kiss.
Lure of the Dragon Shifter
Dragon shifter Wayrian is attracted to the hot human cowboy the goddess claims is her fated mate, but that's a deal breaker for her grandfather, who wants her to impress the new dragon prince…
Sleeping Dragon Prince
Sleeping Beauty never looked this hot! It's finally Lisa's turn to wake her very own dragon prince with a kiss (and more), but with a battle raging outside, things quickly turn sour.
Combined Price: $7.97
Special Offer: $2.99
Saving: 64%
Would you Step Between a Dragon Princess and her Baby?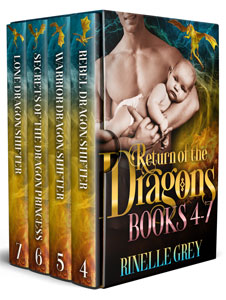 Discover love, adventure, and protective dragon shifters in the Australian outback. This four book bundle of paranormal, dragon shifter romances features a missing princess, a rebellious dragon, a secret baby, and plenty of hot dragon shifters.
Contains the following stories:
Rebel Dragon Shifter
An exiled dragon shifter who is struggling with his past meets a human police officer who's dying to help.
Warrior Dragon Shifter
Dragon warrior Narrian is honoured to be chosen as Bruce's bodyguard. She's prepared to risk her life to see that he makes it safely to the princess. She didn't expect to be risking her heart.
Secrets of the Dragon Princess
It's been a year since he's seen her—a year since Lyrian broke his heart. But the secret she's been keeping from him, his baby daughter, will turn his life upside down.
Lone Dragon Shifter
She's hunting for the princess. He's searching for his brother. Can they help each other, or are they on opposite sides of a dragon war?
Combined Price: $12.96
Special Offer: $5.99
Saving: 54%
If you read a Rinelle Grey story, you can trust in a happy ending. Love will always triumph, even if it seems impossible… Rinelle Grey writes feel-good romance usually in science fiction or fantasy settings. Her heroines are independent and headstrong, and her stories are hard to put down. She grew up in a remote area of Australia, without power, hot water, or a phone, but now lives with all of those and her (happily ever after) husband, daughter, chooks, ducks and veggie garden.
Rinelle Grey is a participant in the Amazon Services LLC Associates Program, an affiliate advertising program designed to provide a means for sites to earn advertising fees by advertising and linking to amazon.com.